Deathstroke confirmed as playable character, but will he be available on the Wii U version?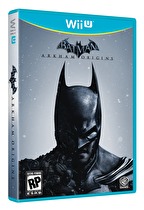 The first trailer for Batman: Arkham Origins shows Batman busting some crooks before he encounters Deathstroke for a battle in a storage facility. After the battle is over, Black Mask makes an appearance telling Deathstroke that he's "not the only assassin in town." A wounded Batman is then seemingly bludgeoned by Black Mask. The trailer ends with Batman standing on a bridge.

The villain Deathstroke will be a playable character, courtesy of a pre-order bonus that is currently only confirmed for Xbox 360, PlayStation 3, and PC. The status of the DLC for the Wii U version is unconfirmed. We have reached out to Warner Bros. for comment.

The Wii U DLC for a recent Warner Bros. game, Injustice: Gods Among Us, is set to release several months after the other versions, and the Wii U version didn't participate in any pre-order bonuses.

Batman: Arkham Origins is set for an October 25 release on Wii U, and Batman: Arkham Origins Blackgate, a 3DS game made by former Metroid Prime developers, will be out on the same day. Check out the trailer below.