Capcom has released new screenshots from the upcoming Monster Hunter 4 on their Japanese site.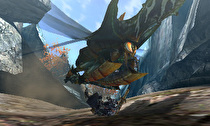 Capcom has released new screenshots and artwork on their Japanese site for their upcoming title, Monster Hunter 4. The game is due out this summer in Japan on the 3DS, no North American release date has been set.
The screenshots include some new monsters as well as some concept art of the environments to be featured in the game. Among the new monsters is what appears to be some sort of land shark, as well as some images of a Lagombi, who many may remember as one of the monsters featured in the demo of Monster Hunter 3 Ultimate. Check the gallery below for all the images.