Sega is bringing Double Fine's platform adventure to Japan.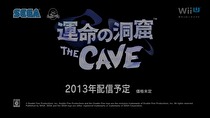 The Cave, the downloadable Wii U eShop title, is coming to Japan through Sega. Revealed during the "Sega Direct" segment of the Nintendo Direct in Japan, The Cave is a 2D platformer that has players use three different characters, each with their own story.
The Cave was released in the West in January. There is currently no specific release date for the title in Japan aside from a general 2013 release.