Nintendo makes an aPEEL to the animal kingdom.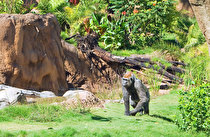 Nintendo has teamed up with the Los Angeles Zoo & Botanical Garden to celebrate the launch of Donkey Kong Country Returns 3D. From May 24 to 27, visitors to the zoo can participate in various themed activities and demo the game.
For the Memorial Day weekend event, the gorilla reserve will be temporarily renamed the "Donkey Kong Country Returns 3D at the Campo Gorilla Reserve" and will feature a special interactive experience where visitors can watch LA Zoo staff feed the gorillas from Donkey Kong themed giant cardboard barrels. Photo opportunities with Donkey Kong himself and GameStop coupons for $5 off the game will also be offered.
"Our gorillas have never had a visit from a celebrity of Donkey Kong's stature," said John R. Lewis, director of the Los Angeles Zoo. "All the planned activities for the weekend fit perfectly in line with the family-friendly environment of the zoo, as well as bring awareness to the animals in the gorilla reserve."
Donkey Kong Country Returns 3D launches on May 24 and features a new mode, eight new levels, and revamped 3D graphics for the Nintendo 3DS.
The LA Zoo is located in Griffith Park and attracts 1.6 million visitors each year. Opening in 2007, the Campo Gorilla Reserve one of the zoo's main highlights. Tickets cost $17 for adults and $12 for children 12 and under. The zoo is open from 10am to 5pm daily.