You can own the Super Nintendo classic right now on the Wii U Virtual Console, and for a discounted price to boot!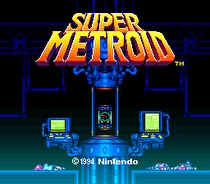 Super Metroid is now available on the North American Wii U eShop.
The Super Nintendo entry in the Metroid series is widely recognized as a highpoint in the series, and is currently purchasable for download on the Wii U eShop for a limited time price of 30¢. The game has you play as the intergalactic bounty hunter Samus Aran on an adventure exploring the planet Zebes.
This reduced price is a part of the Virtual Console Trial Campaign, a celebration of 30 years of Famicom, Japan's equivalent of the NES. Super Metroid will stay on sale from now until June 13. After the promotional period ends, the game will revert to a price of $7.99.
The previous game in the Virtual Console Trial Campaign was the NES title Kirby's Adventure, which will remain on sale until tomorrow. The next game coming in the promotion is the NES puzzler Yoshi (also called Mario & Yoshi), which is slated for availability on June 12.