The latest Phoenix Wright game, under the title Dual Destinies, can only be bought digitally in the West.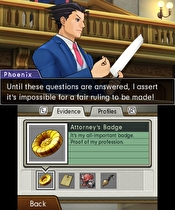 Phoenix Wright: Ace Attorney - Dual Destinies, formerly known as Ace Attorney 5, will launch in North America and Europe this Fall, only on the 3DS eShop.
Capcom confirmed that the game, which was previously announced for a Japanese release on July 25, will not be available at retail for its Western localisation. A statement released by the publisher cited the lack of long-term retail success for previous Ace Attorney games as the reasoning for this decision.
Speaking to Kotaku, a Capcom representative said: "We understand that this decision may upset fans who wanted to have a physical version of the title to add to their collection but we believe this direction is the best to take to ensure that fans are able to enjoy the game at their own leisure."
Dual Destinies, the fifth title in the cult adventure series, returns star defence attorney Phoenix Wright to the courtroom, along with his new sidekick Athena Cykes. It introduces a new system called the Mood Matrix, which allows the player to gauge the emotions of witnesses and suspects during their testimonies and spot contradictions.