And just where did that new "Wall Link" idea come from?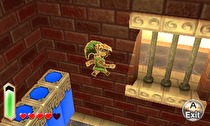 Eiji Aonuma, producer and director of the Zelda series, has revealed new details about the upcoming A Link To The Past sequel for the Nintendo 3DS, noting that he believes it may be the most inventive entry yet.
In an interview with CNET, Aonuma said that this installment of The Legend of Zelda series is a drastic departure from its predecessors. "It certainly feels different from our point of view," he told CNET.
A light and dark world will make an appearance in the game, Aonuma confirmed, however it remains to be seen if it is the same variation on the mechanic seen in the SNES original.
A notable addition to the game is Link's ability to become a drawing on the walls around him. In this state, Link can move to areas previously inaccessible. Aonuma pointed out that this mechanic was derived from the Phantom Ganon battle in the Nintendo 64 game The Legend of Zelda: Ocarina of Time. In this battle, Phantom Ganon flies from one painting into another, forcing players to pay close attention to which painting the true Phantom Ganon resides within.
The new installment of The Legend of Zelda series is due this holiday season for the 3DS.