Nintendo is already at it with a special sale for Kirby Super Star.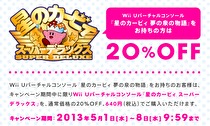 A special Wii U Virtual Console "Start-Up Campaign" began today in Japan, giving gamers 20% off of Kirby Super Deluxe (Kirby Super Star).
To take part in the sale, gamers will first need to purchase the current Famicom 30th Anniversary promotional title, Kirby's Adventure for 30 yen. After the purchase, the price for Kirby's Super Star is knocked down from 800 yen to 640 yen.
This special campaign is running from May 1 until May 8 at 9:59 a.m and is currently exclusive to Japan.