Nintendo is looking to expand its business by allowing electronic payments on its home console.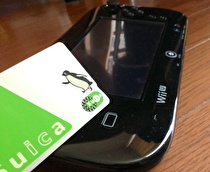 Nintendo revealed that they are preparing to allow electronic payments via the GamePad's NFC (near field communication) reader on the Wii U. While no specifics were given as to when gamers will be able to utilize this payment method, the ability to make payments through the NFC reader would allow Wii U owners to make purchases with touch based payment cards, such as Suica. NFC cards are used often in Japan to pay for train fare and to purchase items at convenience stores.
Nintendo released Pokémon Scramble U (Pokémon Rumble U in the West) on April 18 with the ability to use special NFC figures that can be scanned and used in-game. This Wii U downloadable title also can make use of standard NFC cards which, after scanned, gives players a special assist character. There is still no word if or when Nintendo will make use of near field communication in the West.