Pokémon fans, get ready!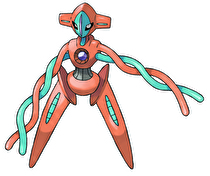 A special Deoxys distribution event will be taking place starting May 8, and ending on May 31, for owners of Pokémon Black, Pokémon White, Pokémon Black 2, or Pokémon White 2.
This Deoxys will be available via Nintendo Wi-Fi Connection and will come to players at Lv. 100. The moveset of this legendary creature has yet to be revealed.
Fans of Deoxys have even more to look forward to since a new Deoxys-EX card will also be released next month as part of the new Pokémon TCG: Black & White – Plazma Freeze expansion set.