With the Wii U system update slated for today, the classic games service goes up for North America tomorrow.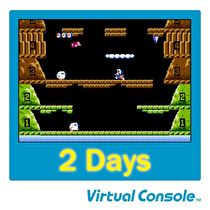 UPDATE (4/23 at 3 p.m. ET): The Wii U Virtual Console is likely launching Friday, according to our source who claims the system update will go live Thursday.
Original Story (4/22): The Wii U Virtual Console service will launch tomorrow, Tuesday, April 23, as confirmed by an image on Nintendo's Facebook page.
What games will be available day are still unknown, though the inclusion of Ice Climber in the image Nintendo used seems to indicate that it will be one of them. The launch follows today's release of the much-anticipated Wii U system update that brings added speed and stability.