If you love the music in Toki Tori 2, you can now own the soundtrack!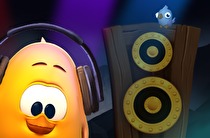 The soundtrack to Toki Tori 2 is now available for download via the bandcamp website.
The album contains 31 tracks from the game, a digital poster that is signed by the development team, and a build-it-yourself hermit crab. The company behind the music, SonicPicnic, had the following to say on the creation. "We've incorporated many different themes from the Toki Tori legacy, going back as far as its Game Boy Color roots sometimes."
Toki Tori 2 is currently available on the Wii U Nintendo eShop.
Check out the album here.