The update where cute squirrels and Jack the Ripper collide!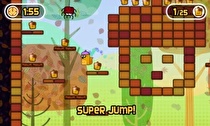 Damn, are you all really beating these games within a week's time? Hell, I haven't even finished Crimson Shroud yet! No matter, Nintendo thinks we're craving new content on a weekly basis, so here we are. Enjoy yourselves!
3DS eShop Retail Sales
Pokédex 3D Pro-$9.99 (Until April 19, 9 AM PT)
Liberation Maiden -$4.99 (Until May 30)
Crimson Shroud - $4.99 (Until May 30)
Aero Porter - $2.99 (Until May 30)
Dress to Play: Cute Witches -$1.99 (Until April 25, 9 AM PT)
3DS eShop Retail Games
LEGO City Undercover: The Chase Begins -$29.99 (April 21)
Harvest Moon 3D: The Tale of Two Towns - $29.99
Puzzler Brain Games $9.99 (April 23 - Also on DSiWare)
Puzzler World 2013 - $TBD(April 23 - Also on DSiWare)
3DS eShop Games
Super Little Acorns 3D Turbo- $7.99
You come home after a hard day's work, only to discover it's been raided. Your fridge is bare. Your cupboards are full of nothing but air. Your valuables are just where you left them, though, so that's cool. But the food! As a human, we could call the cops and get this sorted. But Mr. Nibbles ain't no human, he's a squirrel. Restore order across 60 stages, and 30 challenges exclusive to the 3DS. With a family to save from starvation, Nibbles grabs his grappling hook and sets out to make things right. One acorn at a time.
Mystery Murders: Jack the Ripper- $9.99
Man, the things video games can do. They can train surgeons, recreate real world battlefields, and prepare astronauts for their voyage. Well the next step is here; video games will now allow us to solve murders from 1888. Particularly, Jack the Ripper, an individual who killed prostitutes and was, overall, a total loser. Search rooms and alleyways for clues as you pursue the Ripper, solving puzzles as you go. It won't be easy, but someone has got to crack this century old case!
Witch and Hero were pretty tight, like this *wraps two fingers around each other*. Nothing could stop this unlikely duo, or so it seemed. Ultimately, ego got in the way, and Medusa served these two a sweet dish of what we like to call come-uppins. Witch got turned into stone, and it's up to Hero to protect her in this dangerous, 8-bit world. Enemies come at you from all directions, so bump into them and save Witch from danger. Collect enough blood, and Witch can temporarily emerge from her rock-like state and reign fury upon your foes! Gross and cool at the same time!
DSiWare Games
Working Dawgs: Rivet Retriever - $1.99 / 200 Points
The dawgs are back, taking care of the menial tasks we've bred them for. By 2017 we realize how unnecessary slippers and newspapers are, so we train our dogs to fetch something else. Rivets. The backbone of every construction site, rivets are important but always manage to get lost. So in the future, we let loose the hounds. We arm them with a non-operational rivet gun, some cute overalls, and the ability to walk on their hind legs. Witness 20 levels of future construction with Working Dawgs: Rivet Retriever.