Comes with a digital copy of Animal Crossing New Leaf for $219.99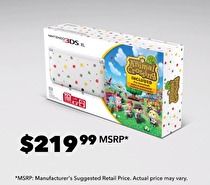 Bill Trinen has confirmed in today's Nintendo Direct that a special Animal Crossing themed 3DS XL is coming to North America alongside the release of Animal Crossing: New Leaf on June 9. The system is coated with various icons from the game, and will include a pre-installed copy of the game.
The system will go for an MSRP of $219.99, or $20 lower if you were to buy both an 3DS XL and a copy of the game separately.