Only 100 seconds to beat a level? Madness, I say!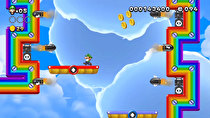 New Super Luigi U, the upcoming downloadable content for New Super Mario Bros. U, will be available to download worldwide this summer.
New details were also confirmed at the most recent Nintendo Direct broadcast. In every level of this DLC pack, which swaps out the game's existing world map with 82 new stages, there will only be a 100-second time limit, meaning that players will have to move quickly and precisely in order to clear them successfully.
Furthermore, Luigi himself will control differently to Mario - he can jump considerably higher than his brother and can perform a flutter kick to slow his descent in the air, but he is more slippery and will take longer to halt his momentum after running.
New Super Luigi U is coming to Japan in June and then shortly afterwards in Western territories.