We could be getting a dose of the Minis in early May.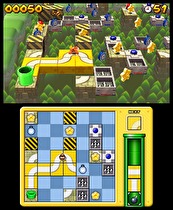 Mario and Donkey Kong: Minis on the Move is currently listed for a May 9 release date in the North American eShop. There is no word on the price, though.
The eShop description details the game, saying that the experience will consist of 180 levels spread across four different puzzle modes. In addition, four unlockable mini-games and a level builder are included. You will be able to access levels created by other users and save up to 100 user-created puzzles.
The newest entry in the Mario vs. DK series, Minis on the Move was first revealed during the February Nintendo Direct and was listed as "coming soon." This release date was uncovered just before the next Nintendo Direct, which takes place on April 17 at 10 a.m. ET/7 a.m. PT. It is likely this release date will be confirmed then.