Protecting Japan, shuffling luggage, and rolling some dice has never been so affordable!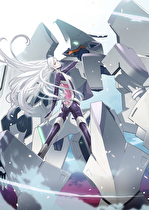 Level-5 will be selling the Nintendo 3DS eShop exclusive Guild01 series at a discount from April 18 through to May 30. Liberation Maiden, Aero Porter, and Crimson Shroud will all be on sale in both North America and Europe.
Liberation Maiden, a sci fi shooter from Grasshopper Manufacture, will sell for $4.99/€4.99/£4.49. Aero Porter will cost for $2.99/€2.99/£2.69. This airport simulation title has you sorting luggage and growing your business in the process. Crimson Shroud, a digital take on the tabletop genre from the mind of Yasumi Matsuno, will sell for $4.99/€4.99/£4.49.
Still not convinced? Check out our review for Liberation Maiden here, Aero Porter here, and Crimson Shroud here.
The timing of this sale is very interesting, as a Nintendo Direct in early October of last year announced the release of these titles in North America and Europe. With a new Direct coming Wednesday, it's possible we may hear of titles from the Guild02 series making their way to our shores as well.