The 3DS version will be a 2D Metroidvania from former Metroid Prime developers.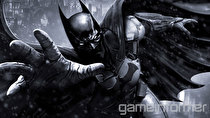 Batman: Arkham Origins is coming to Wii U and 3DS on October 25, according to a Game Informer's May cover.
On Wii U, the game will be developed by WB Games Montreal, the studio responsible for the Wii U port of Batman: Arkham City. Arkham Origins takes place a few years before the events of Arkham Asylum, and will star a younger Bruce Wayne. So far, only assassin Deathstroke has been confirmed as a villain, but in total, Batman will fight with eight assassins trying to kill him on Christmas Eve. The development of the game is being head up by Eric Holmes, who worked with Radical Entertainment on The Incredible Hulk: Ultimate Destruction and Prototype.
The 3DS version will be called Batman: Arkham Origins Blackgate, and will be a 2.5D Metroid-style game from Armature Studio, which was formed by former Retro Studios employees who were leads on the Metroid Prime series. The story of Arkham Origins Blackgate takes place after the events of the Wii U game.
Both games are set for an October 25 release. The Wii U version is also coming to Xbox 360 and PlayStation 3, while the 3DS version is also coming to Vita.