Ulala and Jill Valentine duke it out, all while Dante watches from the bushes.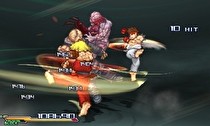 Project X Zone, a strategy RPG from Monolith Software, is coming to North America June 25. Namco Bandai confirmed the date on the 3DS game's product page.
Project X Zone is a strategy RPG that unites characters from Sega, Namco Bandai, and Capcom under one roof. The game's battle system is grid based, and players control two characters with various combinations of the A button and directions on the Circle Pad. Characters that appear in the game include Ulala (Space Channel 5), X (Mega Man X), Jill Valentine (Resident Evil Revelations), and Dante (Devil May Cry). The game is a joint effort between Banpresto, a toy company known for their Japan-exclusive games, and Monolith Software, the studio behind Xenoblade and Disaster: Day of Crisis.
Namco Bandai has yet to confirm the game's European date, although a release is confirmed.