Two songs to be exact.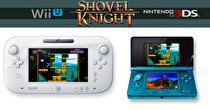 Mega Man and U.N. Squadron composer Manami Matsumae is writing two songs for Shovel Knight. The developer, Yacht Club Games, announced the collaboration through the game's Kickstarter page.
Yacht Club Games was able to bring on Matsumae for the 3DS/Wii U title after Koopa Soundworks reached out to them with the opportunity.
Yacht Club Games is funding the game via Kickstarter. Shovel Knight is a retro styled 8 bit game that sees players fighting the Order of No Quarter. No release date has been announced, but you can check out Neal's preview of the game.