Puzzled birds and whipped vampires lead today's eShop updates!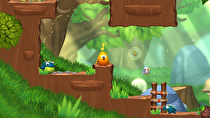 I hope last week let you take some time to catch your breath from the eShop onslaught, because it's back and swinging. Toki Tori 2 is out today for the Wii U, so be sure to check out Guillaume's review. The 3DS eShop gets some digital versions of retail releases with Gabrielle's Ghostly Groove 3D and Real Heroes: Firefighters 3D. Castlevania and NAM 1975 make up today's Virtual Console, on the 3DS and Wii respectively. If you're short on dough, or missed it the first time around, escapeVektor for the 3DS eShop is 50% off and rings up at $4.99.
3DS eShop Retail Games
Gabrielle's Ghostly Groove 3D - $19.99
3DS eShop Sales
escapeVektor - $4.99 (Normally $9.99)
Wii U eShop Games
Toki Tori 2 - $13.49 until the 19 Reg 14.99
When it comes to Toki Tori 2, forget everything you know about its predecessor. Well...wait. Don't forget about the titular bird. Oh, and it's still a puzzle platformer, so don't wipe that one yet either. Everything else though? Boom! Forget about it. You're not placing ladders anymore like a sucker, you're using the environment. See that cute owl? He's going to pick you up. What's that, you're in tall grass and he can't see you? Figure it out! It's an open world adventure, so if you're stumped, head in another direction. He can't fly, but there's a ton that Toki Tori can do.
3DS Virtual Console
Ah. yes the original Castlevania for the NES. Released in 1987, I remember it for two reasons. The first is its brutal difficulty, and the second is my bewilderment that hearts don't provide health. Is that not super weird? Am I the crazy one? Regardless, Castlevania puts you in control of Simon Belmont. The year is 1691, when men were men and vampires didn't have the right to vote. It's up to you to destroy Dracula and stop his evil reign. Will you succeed? Castlevania 2. 3. 4 and so on tell me no.
Wii Virtual Console
I'm going to tell you a story you won't read in any history books, primarily because it never actually happened. In the last month of the Vietnam War, two soldiers stopped a laser gun from lasering the world to smithereens. Those men were Silver and Brown, two tough as nails hombres with a knack for weird nicknames. Relive their harrowing tale from a behind-the-back perspective, and take out the Vietcong that run around in the background. Can you save the kidnapped Dr. R. Muckly? Now that you know his name, do you still want to?