A free, Super Mario Bros. themed special AR card and application are coming to stores across Japan later this month.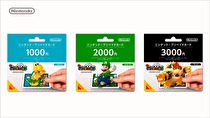 Special Augmented Reality/Nintendo Prepaid card sets featuring characters from the Super Mario series are coming to Japan starting April 23, Satoru Iwata revealed at a Chotto Nintendo Direct today.
The prepaid card doubles as an AR card which can be used with Nintendo 3DS downloadable AR software. The software, titled Isshoni Photo (Take a Picture Together), will be available as a free download that can be accessed via a QR code on the card packaging. The application allows 3DS owners to take photographs with and interact with digital characters from the Super Mario Bros. universe.
There will be a total of six different cards, each in different monetary increments. The first three, Goomba (1,000 yen), Mario (2,000 yen) and Peach (3,000 yen) will be released on April 23 and can be found at convenience stores and any locations that carry Nintendo Prepaid cards. The second set will feature Koopa Troopa (1,000 yen), Luigi (2,000 yen) and Bowser (3,000 yen) and currently don't have a specific release date. As mentioned above, the cards will allow players to interact with these characters via their Nintendo 3DS to watch them do different things, such as show emotions or move around. Players can also put two different character cards together to see what kind of animation will happen. When it comes to taking photos, players are able to move the digital characters outside of the limits of the card as you can see in the pictures below.
There is currently no word whether or not these special AR/Prepaid cards will make it to the West. To see more about these special cards, check out the pictures below.