The new Pokémon will also be shown on the Japanese TV program, Pokémon Smash.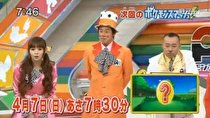 A new Pokémon from the upcoming games Pokémon X and Pokémon Y is being revealed next Saturday.
The official Pokémon Twitter announced that news about X and Y would be revealed next Saturday. The news will be a reveal of a new Pokémon, according to a post on Serebii. The reveal of a Pokémon was also announced on the Japanese TV show Pokémon smash.
The type and other information about the new Pokémon is not yet known.