More missions, more characters, more Fire Emblem. Are you in?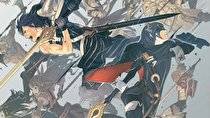 Another two sets of downloadable content for Fire Emblem Awakening have been made available in North America.
"Rogues and Redeemers 1" is the first in a trilogy of DLC packs starring classic characters from the entire history of the Fire Emblem franchise. In this high-level map, the game's protagonist, Chrom, goes into battle alongside 10 series veterans, including Ephraim, a major character from GBA title The Sacred Stones.
Players who finish the map successfully will be rewarded with Ephraim as a playable Level 20 Great Knight. "Rogues and Redeemers 1" can be purchased alone for $3 or as part of the full "Rogues and Redeemers" set for $6.50. The latter option will provide access to the other two missions as they are released.
The other new piece of content, "Ghost of a Blade", can be downloaded free of charge. On this map, Chrom and his army must fight to restore peace to an ancient tomb that has been overrun by the evil Risen.
Fire Emblem: Awakening is available both at retail and digitally via the eShop in Japan and the US. The game is due to release in Europe on April 19, along with a special edition 3DS XL system bundle.