Music and fish, the greatest combination of anything ever.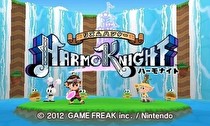 Slim pickings this week, gang. However, when one of them pickings is HarmoKnight, you don't talk sass. Got it?! What else is on tap? Natsume's Legend of the River King is up for grabs on the 3DS Virtual Console, and retail releases Sonic & All-Star Racing Transformed and Resident Evil Revelations are available for download on the 3DS eShop. Sadly, no obscure fighter from the mid-90's is releasing on the Wii Virtual Console this week, and for that I am sorry.
3DS eShop Retail Games
Sonic & All-Star Racing Transformed - $29.99
Resident Evil Revelations - $19.99
3DS eShop Games
As Madonna once said, "Music brings the people together. Yeah." She's also said a lot of things I shouldn't repeat here, but she does have a point. Well, the fine folks at Game Freak used Madonna's 'genius' as a launching point for the tale it weaves throughout HarmoKnight. Tempo is a young boy in the land of Melodia, a place united by its love for music. A total jerk named Gargon tries to mess that up, so its up to Tempo and a magic staff to kick Gargon's butt back to space. HarmoKnight is a terrific rhythm-action platformer, and I prattle on and on about it in my review.
3DS Virtual Console
Legend of the River King - $TBD
Your sister is sick. Wait, wait, come back. Your sister in the game is sick. As a fisherman you've heard tales, tall as they may be, of the Guardian Fish. A mystical being, it's believed that it can cure your sister. And what God like creature isn't going to help some dude who tricked him with a fake dinner and forced a hook through its face? While released for the Game Boy in 1998, the version you can download today is a port for the Game Boy Color that saw release a year later.