Luigi's Mansion gets the 3D puzzle panel treatment.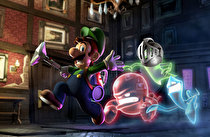 Nintendo have added a new Puzzle Swap panel in the United States, featuring artwork from Luigi's Mansion: Dark Moon.
The puzzle consists of 40 pieces with 8 of them being the pink variety only available through StreetPass trading. As with all new puzzle additions, those with a Wi-Fi connection will receive one piece for free to start off their collection.
Be sure to have your SpotPass notifications turned on if you want the freebie.