Relive a pair of arcade D&D brawlers with Chronicles of Mystara.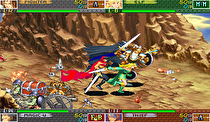 A double pack of Dungeons & Dragons beat-'em-ups, dubbed Chronicles of Mystara, is coming to the Wii U eShop this Summer, Capcom revealed during PAX East 2013.
The compilation, which is being handled by Iron Galaxy Studios, contains the arcade titles Towers of Doom and Shadows of Mystara with improved HD visuals and several gameplay enhancements.
Towers of Doom, first released in 1993, is a side-scrolling brawler with traditional RPG elements. Players can choose to control a Fighter, Elf, Dwarf or Cleric, each with a distinct set of attacks and abilities. Its successor, Shadows over Mystara, added a Thief and a Magic-User to this repertoire of characters, as well as new mechanics and branching level paths.
The new versions of this arcade duo will feature instantaneous drop-in/drop-out online multiplayer for up to four friends, and include leaderboards and a rewards-based challenge system. In addition, a new mode called House Rules enables players to customise various aspects of the gameplay.
For the Wii U version, the inventory will be displayed on the GamePad's touchscreen, letting players quickly select different items and spells for use in battle.
Dungeons & Dragons: Chronicles of Mystara is due to arrive on the Wii U eShop in June this year, at an expected price point of $14.99/£11.99.