Get spooked a day early.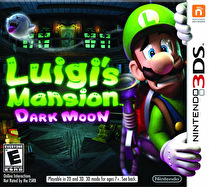 Nintendo will sell copies of Luigi's Mansion: Dark Moon and Pokémon Mystery Dungeon: Gates to Infinity at PAX East this Saturday, a day earlier than its scheduled release this Sunday.
In addition, Nintendo will also be selling Fire Emblem Awakening, and various models of the 3DS XL. The Pikachu themed XL will be available for purchase, but looks to be sticking to its March 24 release date. We've reached out to Nintendo for confirmation.