Electrical shocks from the device are completely intentional...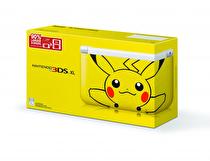 It's official, the Pikachu Edition 3DS XL is coming to North America on March 24, releasing alongside Pokémon Mystery Dungeon: Gates to Infinity, and Luigi's Mansion: Dark Moon.
The unit has a yellow, Pikachu emblazoned outer-shell, and is white on the inside. It comes with a 4GB SD card, and carries an MSRP of $199.99.
The announcement also confirms our own Neal Ronaghan's 2013 predictions, heard in episode 67 of the Connectivity podcast. Congratulations, Neal! The unit was previously released in Japan and Europe last year.