Tri-Crescendo shows Nintendo some Digimon love.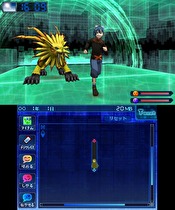 Japan's upcoming summer release, Digimon World Re:Digitize Decode for the 3DS, will contain loads more content than the original Digimon World Re:Digitize, according to Famitsu magazine. With at least two new story chapters, new Digimon, and new ways to play, Decode will have double the content of its PSP counterpart.
Decode's developer, Tri-Crescendo, took a careful look at feedback from their previous Digimon game and decided to rework the title before its Nintendo release. The new game will contain 160 Digimon, plus new bosses, bringing the final count to roughly 200.
Two completely new additions are Degitta and Decode Level. Degitta is a Twitter-like news feed that allows players to quickly access news from the Digimon world. Decode Level gives players a chance to train their Digimon further and maximize their potential.
Last month, a leak from V Jump magazine revealed the game's Nintendo future and mentioned two new story chapters: The Scheming Demon Lord and The Lamentful X-Antibody. Also, two new Digimon were named: Omegamon X-Antibody and Dukemon X-Antibody.
Re:Digitize follows a 14-year old male protagonist who is transported to Digimon's digital world. Its story maintained similarities to the first Digimon World game, unlike past sequels.
Released last year, Re:Digitize has so far been a Japanese exclusive, and no mention has been made of a Western Decode release so far.