The 3DS eShop is giving your wallet that come hither stare...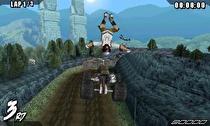 Today's release schedule is pretty bonkers. The 3DS eShop is so jumpin' with content, I just don't know where to start. It's an embarrassment of riches, quite honestly. How long can I talk about the games before I actually get to them? Not much longer. ATV Wild Ride 3D, Kersploosh!, and Nano Assault EX all hit the 3DS eShop today. Resident Evil: The Mercenaries 3D makes the jump from retail to the eShop, Wrecking Crew is out for the Virtual Console, and Sakura Samurai is on sale for $4.99. All that, and the Wii gets a Virtual Console release in the form of King of Fighters 98.
3DS eShop Retail Releases:
Monster High: Skulltimate Roller Maze - $29.99 (Available March 13)
Resident Evil: The Mercenaries 3D - $19.99
3DS eShop Demos:
Pokémon Mystery Dungeon: Gates to Infinity
3DS eShop Games:
Renegade Kid continues their fascination with mud in ATV Wild Ride 3D, an eShop remake of their 2011 DS game. Yet again Jools Watsham has you putting the hurt on wet soil, but this time with the aid of a motor vehicle. Sling mud against three other racers across 24 tracks, online or off. Will your efforts end the tyranny of mud forever? Well, Mutant Mudds 2 has already been announced, so not likely. Read my review for our final thoughts on the matter!
I see you there, staring at that rock, eyes darting back and forth between it and the well in the distance. You want to toss that poor, defenceless rock, don't you? Have you even stopped to think of what comes next? Sure, your life moves on; you get married, have some kids, settle down. But what about that rock? Kersploosh! is going to open your eyes, son. Steer a rock as it tears down a hazard laden well. Watch out for those wooden planks! Don't hit that pizza! What's your prize IF you hit the bottom? A watery grave...and maybe a high score to StreetPass. Still, real jerk move. Read Daan's review to see if you've got the stones.
Not long now until Nano Assault EX stops being a video game and instead becomes reality. Hand sanitizers are creating super germs, and we're all just Outbreak monkeys waiting to happen. Who do we turn to? Really tiny pilots of really tiny ships! Shoot viruses in the face in this updated, eShop-exclusive take on 2012's Nano Assault. Steer your ship along disgusting virus clusters and shoot anything that moves. Got a Circle Pad Pro? Then turn this dual-stick shooter into an actual dual-stick shooter. Like leaderboards? EX has got you covered. Want to check that leaderboard and not worry about the game locking up? This is the version to get.
3DS Virtual Console:
What do you call a Mario game where he is unable to jump and carries a huge hammer? Wrecking Crew, my friends! Now, you can fool yourself into thinking the timing of this release has nothing to do with Wreck-It Ralph hitting store shelves, or you can join me in this crazy conspiracy theory of mine! In Wrecking Crew, Mario destroys things. Are the bad guys really just upset owners of the items you're destroying? Who has time to worry about that, you've got ladders to smash!
Wii Virtual Console:
King of Fighters 98 - 900 Points
The fifth installment of the King of Fighters series, 98 eschews a story in favour of bringing you a wide cast of characters. The lack of a story means dead fan-favourites have returned. Advance and Extra fighting styles return, and a loss in a match earns players a handicap in the next. Don't settle for being a prince, fight to be the king!