Release date is for both North America and Europe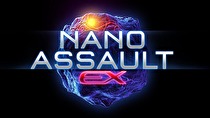 Nano Assault EX comes to the 3DS eShop this Thursday.
Nano Assault EX is an eShop exclusive version of the retail 3DS game Nano Assault. Nano Assault EX has players controlling a microscopic Nanite ship to defeat the Nanostray virus. This new version includes updated graphics, improved gameplay, a new survivor-mode, its own online rankings, and Circle Pad Pro support.
Nano Assault EX will cost $14.99/ £12.49.