The publisher of digital software has a lot planned for this coming year!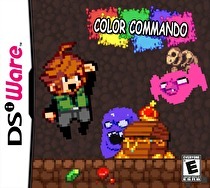 Circle Entertainment, publisher of many DSiWare and eShop titles, have announced their line-up for 2013.
Upcoming releases include a port of WiiWare title Swords and Soldiers and Color Commando, a brand new puzzle platformer by Hugo Smits. Fans can also look forward to a new entry in the Castle Conquerer series and some surprises for both DSiWare and the 3DS eShop.
The full list of titles follows below.
Goony (DSiWare, Q1)
Achilles War (DSiWare, Q1)
Publisher Dream (DSiWare, Q1)
Swords and Soldiers 3D (3DS eShop, Q1)
Witch and Hero (3DS eShop, Q1)
WAKEDAS (3DS eShop, Q2)
Color Commando (DSiWare, Q2)
Cafe Dream (DSiWare, Q2)
I am in the MOVIE (DSiWare, Q2)
Banking Dream (DSiWare, Q2)
Cinema Dream (3DS eShop, Q2)
Castle Conqueror: Heroes 3 (3DS eShop, Q3)
World Conquest (3DS eShop, Q3)
Rhythm Scape (3DS eShop, Q3)
Toy Defense (3DS eShop, Q3)
Sweet Memories: Poker Night (3DS eShop, Q3)
Puzzle Craft (3DS eShop, Q4)
Lair Land Story (3DS eShop, Q4)
Lair Land Story 2 (3DS eShop, Q4)