Bit.Trip Presents...Downloads2: Mirror Fate of Retro Rampaging.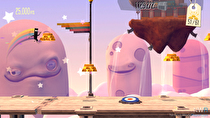 Pretty big turnout for this Downloads party I'm throwing. Coaster Creator 3D is over there in the corner, chatting it up and NOT using a coaster on my new oak table! You'd THINK he'd know better. Easter Eggztravaganza and Mahjong Mysteries - Ancient Athena were unexpected guests, but they're welcome nonetheless. Oh... oh my god. I can't believe who just walked in. Bit.Trip Presents...Runner2: Future Legend of Rhythm Alien and Retro City Rampage JUST showed up. They're super late, but I can't believe they're actually here! Good thing I busted out the good Doritos for such an occasion.
3DS eShop Demos:
Castlevania: Lords of Shadow - Mirror of Fate
3DS eShop Sales:
Fractured Soul - $7.99
Wii U eShop Games:
BIT.TRIP Presents...Runner2: Future Legend of Rhythm Alien - $14.99
While other Bit.Trip titles arrived after Runner's 2010 WiiWare release, it still felt like an excruciating wait to once again guide Commander Video through these rhythm-injected obstacle courses. If you're not familiar with the game, it's an auto-scrolling platformer where players input commands and prevent Commander Video from goofing up and starting over. Players jump pits, slide under obstacles, and karate kick through barriers. Grabbing stacks of gold increase your score, which can then be compared against your Wii U friends on the game's leaderboards. How good is it? Our own Neal Ronaghan thinks it's 10 out of 10 good, so yeah, it's probably worth your time.
3DS eShop Games:
I hope you came here wanting to know me better, because I'm going to spill. I don't trust man-made structures. I hate buildings, I hate stairs, I sometimes think my bed will fall through the floor. Most of all, I hate roller coasters. Why does Johnny Coastermaker care if I live or die? Coaster Creator 3D let's me breathe a little easier. I'm only dealing with virtual lives, and once my coasted is complete, I can "ride" it from the comfort of my couch. Plus, I can have Miis mill about my theme park, so I can surround myself with friends. It's all very comforting. I'm still not over that bed thing, though.
Mahjong Mysteries - Ancient Athena - $4.99
David, a famous adventurer, needs YOUR help! He's out to solve the mysteries of the Gods of Olympus and needs some assistance. Well, don't get ahead of yourself. All the adventuring stuff he can handle on his own, he's famous for a reason. No, what he needs from you is help with all these mahjong puzzles he's brought along. I assume his interest in them doesn't mean he's any good. So match some tiles and help David on his epic journey!
DSiWare:
Easter Eggztravaganza - 500 Points / $4.99
There's no law that states "Citizens may only experience the raw thrills of Easter ONCE a year." If there was, I'd want no part of this country anymore, Mr. Easter Scrooge. If you're with me on this, than Easter Eggztravaganza might be for you. Join Sally and Mike on their Easter festivities, and partake in games of spot the difference, jigsaws, hidden object hunts, and more! It just may be eggzactly what you need.
WiiWare:
Retro City Rampage - 1000 Wii Points
This has been a long time coming, folks. Originally started as an NES remake of Grand Theft Auto 3 in 2002, Retro City Rampage is 11 years of work. Take control of The Player as he travels through time to the always-mysterious 20XX. From there, it's homage city as you explore an entire city in this throwback to the days of the NES and the pop culture that surrounded it. Owners of the Wii version also gain access to ROM City Rampage, a version of the main game crafted around the limitations of the NES. Get ready for some flicker.