Last years LEGO title rebuilt for Wii U, brick by brick.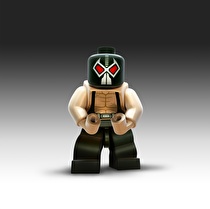 LEGO Batman 2: DC Super Heroes will be brought to the Wii U this Spring, announced Warner Bros. Interactive Entertainment.
New to the Wii U version is the ability to play offline co-op without the split-screen presentation found in last June's versions; one player can use the TV while the other enjoys the game of the GamePad. Off-TV play is also supported, and the GamePad's touch screen shows a map of Gotham City and allows players to choose which DC Super Heroes compose their team.
LEGO Batman 2: DC Super Heroes let's players loose in a LEGO version of Batman's Gotham City. The entire city is at your fingertips, but that only means the Joker and a cadre of villains could strike anywhere. With the likes of Superman, Wonder Woman, and Green Lantern at your disposal. Batman will have just the help he needs.
If it's more LEGO action you crave, Nintendo is releasing LEGO City Undercover for the Wii U on March 18, and its 3DS prequel arrives April 21.