Maybe we should call it Inazuma Eleven 3(D)?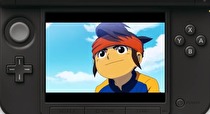 Nintendo of Europe president Satoru Shibata, has announced that Inazuma Eleven 3 will not be coming to the Nintendo DS. Instead, it will be remade for the Nintendo 3DS and released this summer in Europe.
In the latest installment of Level-5's football/soccer RPG game, Mark Evans and his team go on a new quest and participate in the international championships. The software boasts over 2,200 characters and more than 350 moves. It also includes several new ways to scout players and upgrade the various moves during your quest.