Pokemon TV: coming to a small screen near you.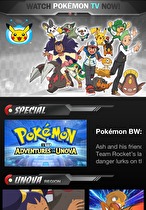 The Pokémon Company released a free Pokémon TV app yesterday for iOS and Android devices.
The app includes episodes from the Kanto series all the way up to Unova. It is not immediately clear how often the app will update with new videos to view.
In addition to episodes, the app includes special features, like the current Pokémon Black and White: Adventures in Unova trailer. On February 15, Meloetta's Moonlight Serenade, a new short, will debut on the service.
The app takes up 6.6MB of space and includes about 10 full episodes for each series.