Get ready to rumble in this new download-only title.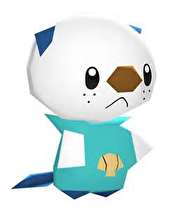 Pokémon Rumble U has been announced for the Wii U eShop in Japan.
Set for a Spring 2013 release, CoroCoro magazine unveiled the sequel to the WiiWare and 3DS Pokémon spin-off games. Pokémon Rumble U will be capable of having up to 100 Pokémon on screen at once an will support up to four players.
The Pokémon Rumble series previously appeared on the WiiWare service, and on the 3DS as Pokémon Rumble Blast. The games are action-RPGs, and put players in direct control of various Pokémon. In battle, players face off against dozens of enemy Pokémon at the same time, earning coins in the process. These coins can than be exchanged for new moves for use in battle.
Due to its release before X and Y, it will only have 649 Pokémon.