Australian Castlevania fans will be able to play the latest instalment soon.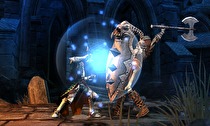 Castlevania: Lords of Shadow - Mirror of Fate will be released for the Nintendo 3DS on March 9, Nintendo Australia has announced. This news follows a distribution agreement between Nintendo and Konami Digital Entertainment GmbH.
The new Castlevania game features multiple characters from the Belmont family across different eras, each character comes with unique skills and abilities. The game features an atmospheric setting along with high resolution 3D polygon graphics. The game is mainly played from a side-scrolling perspective, but moves seamlessly into full 3D battles.
European President of Konami Digital Entertainment GmbH, Shinji Hirano, had the following to say about the 3DS installment, "Nintendo 3DS is the perfect platform to release the latest instalment in the Castlevania: Lords of Shadow franchise. Because of the console's unique 3D capabilities and graphical power this will be the best looking portable Castlevania experience ever and will give fans of the series thrilling action on the go."