You'll need some local friends if you to go hunting over the internet.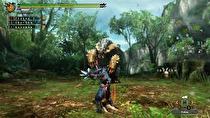 Online multiplayer in Monster Hunter 3 Ultimate will be region-locked, according to series producer Ryozo Tsujimoto.
In an interview with Gamereactor, translated via Siliconera, Tsujimoto confirmed that the server infrastructure would prevent North American players from hunting online with European or Japanese players on both Wii U and 3DS, and vice versa.
This is not the first time the franchise has had region-locked multiplayer. The original Monster Hunter Tri for Wii also only allowed players to form hunting parties with others in the same region.