Can the Mushroom Kingdom handle more then one Luigi? Time will tell.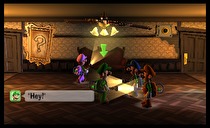 Local, Download Play, and online multiplayer modes are in Luigi's Mansion: Dark Moon.
All multiplayer takes place inside the ScareScraper, where players can experience Hunter Mode, the only mode unveiled at this time.
In Hunter Mode players take control of multiple Luigi's, each a different color, and choose from one of three difficulties. Players have to work together in order to clear floors of ghosts, and bosses located on some floors. Different bonuses are earned based on how players perform in the limited time given.
Luigi's Mansion: Dark Moon releases on March 24. You can read Aaron's Impressions of the multiplayer here.