New Mario games are in the pipeline, we'll see more this year.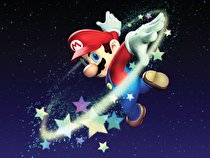 Nintendo EAD, the development team of the Super Mario Galaxy and 3D Land games, are working on a new 3D Mario adventure for Wii U. The next entry in the long-running Mario Kart series has also been announced for the same console.
The news comes as a surprise announcement during today's Nintendo Direct conference.
Nintendo President Satoru Iwata was unable to provide any screenshots or footage of the games in development, but promised that both games will be playable at this year's E3.