Ron Gilbert taps into his Maniac Mansion roots to deliver Double Fine's latest adventure.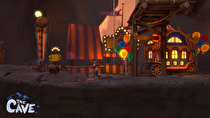 The Cave is available for purchase on the North American Wii U eShop. It's priced at $14.99, and is 1.3GB in size.
The Cave has you choose three characters from a cast of seven (composed of the Adventurer, Monk, Hillbilly, Scientist, Twins, Knight, and Time Traveller) to embark on an eye opening adventure. Within the cave they explore, each character will witness a glimpse of what their future holds. Environmental puzzles are littered throughout the cave, and characters must work together using their unique skill sets to press forward.
The game uses the GamePad for character switching on the touch screen, but also supports the Wii U Pro Controller, and the Wii Remote. It supports three player local multiplayer, and Off TV play is not available.
The Cave will be available this Wednesday in Europe, alongside a demo, and will retail for €12.99 (£9.99 in the UK).