A bucket full of crazy is headed to the west.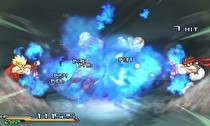 Project X Zone has been confirmed for a release in North America, Europe and Australia. The game is set to release for Nintendo 3DS in summer 2013, and contains characters from multiple franchises including Sega, Namco, and Capcom. In all, 29 different franchises, and over 200 characters, are represented in this strategy RPG. A co-development project between Banpresto and Monolith Soft, the game was published in Japan by Nacmo Bandai.
Despite being released in Japan last October, chances for the game to see a release in the west seemed slim due to the niche appeal of the genre. The game contains many characters that are familiar to western audiences, such as Jill Valentine, Mega Man, and Frank West, however the vast majority of the characters are much more obscure.
Check out impressions from Danny Bivens for the Japanese release of the game.