The 3DS versions of Monster Hunter 3 Ultimate and LEGO City: Undercover also get dated.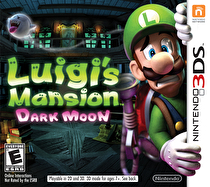 Nintendo has revealed that finally, after multiple delays, Luigi's Mansion: Dark Moon will arriving in North America on March 24, 2013.
The 3DS version of LEGO City: Undercover has also been given a release date and a new name. The game, now known as LEGO City Undercover: The Chase Begins, will be released on April 21, 2013. LEGO City Undercover: The Chase Begins is a prequel to the Wii U title and will focus on Chase McCain's adventures as a rookie cop.
Additionally Nintendo announced that Monster Hunter 3 Ultimate will hit store shelves on March 19, 2013 for the 3DS.

Those that are interested in the already announced February 10, 2013 release of Brain Age: Concentration Training can also look forward to a free demo of the game hitting the 3DS eShop on January 24, 2013.
A plethora of other upcoming 3DS titles were also dated, so check out the official Nintendo Press release below for further information.