Kyurem Vs. The Sword of Justice will be screening in Australia and New Zealand.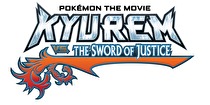 To celebrate the DVD and Blu-Ray release of Pokémon: The Movie - Kyurem Vs. The Sword of Justice in Australia and New Zealand, Beyond Home Entertainment and Hoyts are holding a limited preview screening of the movie in select cinemas across the two countries.
The 2nd Pokémon movie based on the Black and White saga of the long-running TV series and the 15th movie overall, will screen at the cinemas strictly during the last two weekends of February. Details are below.
Dates:
Saturday February 16
Sunday February 17
Saturday February 23
Sunday February 24
Locations - Australia:
NSW - Blacktown
ACT – Woden
VIC – Eastlands
QLD – Stafford
SA – Tea Tree Plaza
WA – Garden City
Locations - New Zealand:
Wairau Park (Sat 16th Feb)
Wairau Park (Sun 17th Feb)
Sylvia Park (Sat 23rd Feb)
Sylvia Park (Sun 24th Feb)
All movie guests will receive a free Just Kidding magazine with the purchase of their tickets, while stocks last.
For Aussie Pokéfans the fun doesn't stop there either - during the first two days of screenings, Banter Toys and Collectables will be showcasing Pokémon Trading Card Game demonstrations one hour prior to each movie session.
Lastly, all Australian guests who purchase their tickets online at hoyts.com.au will be eligible to enter the Powered Up Pokémon Hoyts competition for a chance to win a huge prize pack worth $219, containing the latest Pokémon DVDs, trading cards and Nintendo games.
It certainly looks like Pokémon fans have a great year ahead of them. Stay tuned for more exciting news about this promotion in the near future.