Fire Emblem fans can enjoy the upcoming 3DS game in English or Japanese.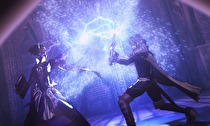 The North American version of Fire Emblem: Awakening for the Nintendo 3DS will feature both English and Japanese voice tracks. Nintendo offered similar functionality with the release of Xenoblade Chronicles by including both languages as well.
Fire Emblem: Awakening, which was released in Japan last April, has seen great success in Japan, selling nearly 500,000 copies and over 1.2 million units of paid DLC. Fire Emblem: Awakening is set to release in North America on February 4 and in Europe this April.