Not much of a wait for Ron Gilbert's latest.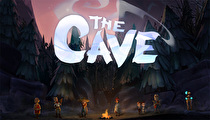 The Cave will be available on the Wii U eShop January 22 for the asking price of $14.99.
Double Fine's The Cave puts you in control of three characters out of a roster of seven, all who have been drawn to a mysterious cave. Within the cavern, these characters will discover who they are, and what they will become. Ron Gilbert, known for his work on Maniac Mansion, and most recently DeathSpank, serves as director on the title.
The Cave has been explained as "Metroid-like" in its exploration, but also includes the adventure game aspects of Gilbert's earlier work, puzzle solving chief among them. The three characters are played in tandem, with the player swapping between them as the situation requires. Replayability was a concern of Gilbert's, so the game will feature areas that are only made available to specific members of the party. Chris Remo of the Idle Thumbs podcast is a writer on the title.