Meet Xerneas and Yveltal.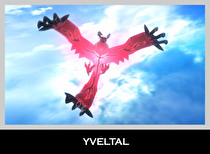 The official names for the two new legendary Pokémon that will headline Pokémon X & Y versions have been revealed.
Xerneas, pronounced ZURR-ne-us, is the Pokémon that resembles a deer, while Yveltal, ee-VELL-tall, is the bird legendary.
These names come from the official Pokémon site. Besides their names, not much else is known about these two creatures, but it's a sure guess that the titular legendaries will grace the cover art of Pokémon X and Y versions, respectively.

Stay tuned, we'll have more Pokénews for you as it is released into the wild.