The hunt begins digitally next week in Japan.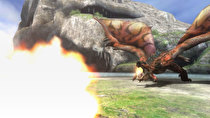 Monster Hunter 3 (tri) G HD Ver., known as Monster Hunter 3 Ultimate in the West, will see a digital release on December 27 in Japan. The digital version will be 500 yen cheaper than the packaged version, retailing for 4,300 yen including tax.
Monster Hunter 3 (tri) G HD Ver. was a launch title when the Wii U released in Japan on December 8. There is currently no word if the title will see a release digitally in other territories. For more information about the Wii U version of the game, be sure to read our latest set of impressions.